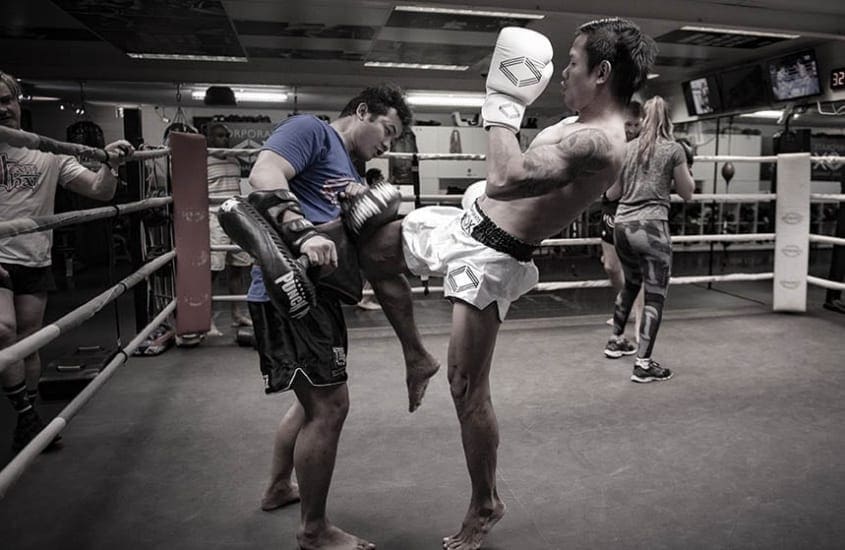 Your muay thai gym that's just around the corner
Have you been searching for a muay thai gym that's near you? A gym for all levels of fitness and skill with the most experienced boxing, Muay Thai and MMA fighters and trainers in the country?
Well, look no further! The Corporate Box Gym has you covered, with muay thai gyms located across South-East Queensland, including Brisbane's north, south, inner city, and Ipswich.
When choosing the best muay thai gym for you, the location and trainers are key to a successful partnership. And it truly is a partnership; you're joining a team of professionals that will help you to attain your ultimate muay thai goal. 
How to choose your muay thai gym
Why choose Corporate Box Gym for your muay thai strength and conditioning workouts? They offer world-class training at the largest gym in Australia, located right here in your backyard in Brisbane.
The muay thai training centre offers: 
indoor and outdoor competition-sized boxing rings

24-hour gym access

MMA cages

matted wrestling / MMA areas

full-time pad holders

extreme training rooms

cross-training rooms

boxing bags

floor-to-ceiling balls

fully equipped weights areas

cardio equipment

outdoor training areas

the highest number of active fighters

pro fighters on-site for specialised training

a free 24-hour breakfast bar!*
Muay thai is widely accepted as the fastest-growing sport today. It's a full contact sport with techniques combining Judo, Thai Boxing, Brazilian Ju Jitsu (BJJ) to name a few – taking the best from all forms of martial arts and delivering us the muay thai that is thriving today.
The global phenomenon, the Ultimate Fighting Championships (UFC), has catapulted MMA to the next level and you can find an gym near you in locations across Brisbane, Australia. 
Why choose this muay thai gym?
The founder of Corporate Box Gym, Shaggy had a mission to not only create the best boxing and  muay thai gym with the most professional trainers and fighters and world-class facilities, but to create an atmosphere where all are welcome. From beginners, to corporate professionals and professional fighters, this gym has been grounded in building a community focused on health and well-being while supporting all to reach their ultimate boxing and fitness goals. 
Corporate Box Gym's seasoned trainers are passionate about helping you achieve your goals, whether that's to get fit, learn a new sport or get competitive! With four boxing gyms across Brisbane, you don't have to go far to enjoy a life changing experience!
And after your muay thai training workout or exercise class, unwind with a free 24-hour breakfast bar, members' lounge, free wireless broadband, and a licensed bar for members. It's the perfect opportunity to meet like-minded people in a relaxed atmosphere. 
Four boxing gyms across Brisbane
East Brisbane
Located on the south-side of Brisbane is Corporate Box Gym East Brisbane, with head trainer, Ben Kelleher. Ben is a 2 x Australian Cruiserweight Boxing Champion and former Australian Middleweight MMA Champion to (seriously) just name a few of the myriad of awards for this professional fighter, boxer and trainer. 
This boxing gym also features full-time professional Muay Thai fighters and trainers with the world-class facilities to match the professionals, that as a member, you can access daily for one-on-one specialised training. If you're looking for the best boxing gym, or boxing gym, muay thai training workout or strength and conditioning workout in your area and you call south-east of the Brisbane river home, then look no further – you've found your home away from home at Corporate Box Gym East Brisbane.
Fortitude Valley
If inner-city is more your style, Corporate Box Gym Fortitude Valley is right amongst it, located on Brunswick Street. Head trainer Glen Hodgens brings more than 20 years of group training experience, as well as fighting across Australia and winning a swag of fighting titles in Super Light Weight, Junior Welter and Welter Weight divisions. 
Another trainer is Nick Lovison, who in 2013 was selected as part of the Australian Ju Jitsu team. Nick currently holds his brown belt in BJJ, black belt in Ju Jitsu Sports and 1st Kyu in Karate and is a NCAS Level 1 Assistant Coach with the Australian Sport Commission. What a depth of knowledge and skills this MMA gym can brag about… and that's just two of the trainers! Great location, world-class facilities, professional fighters and trainers – did someone say, "Perfect muay thai training experience"?
Ipswich
And finally, the fast-growing metropolis outside of Brisbane – Ipswich, boasts its very own Corporate Box Gym which is run by Kurtis Pegoraro… WBC and WKBF Muay Thai Champion with more than 40 fights in Muay Thai and Boxing to his name! Seriously. Also, with free weekly trips to discounted medical and physio specialists for members only, this boxing gym caters to everyone.
Nobody puts muay thai in the corner!
Corporate Box Gym is always in your corner, providing locations across Brisbane for muay thai beginners, enthusiasts or professionals. This muay thai gym nurtures a supportive environment with the most professional fighters and trainers, and first-rate facilities to boot. Find a Corporate Box Gym that's just around the corner from you.
https://www.corporateboxgym.com.au/wp-content/uploads/HPW7638.jpg
573
859
https://www.corporateboxgym.com.au/wp-content/uploads/CORPBOX-LOGO_small.png
2020-07-01 14:00:27
2020-07-01 14:13:26
Your muay thai gym that's just around the corner