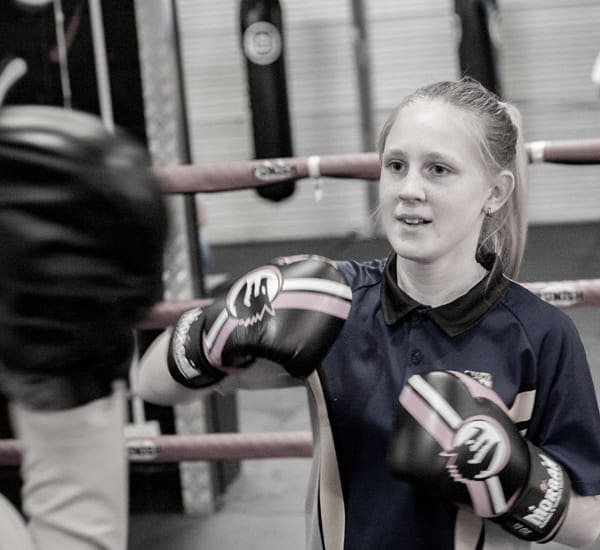 Boxing gyms and classes are more popular than ever.
The rise in popularity of boxing gyms has been a significant trend in the fitness world over the last few years. And it's for good reason.
The truth is that the explosion in boxing classes' popularity is only just beginning. It's not just your family, friends, or colleagues that have suddenly transformed into boxing enthusiasts, celebrities, supermodels and social media influencers are turning to this excellent workout strategy in droves as well.
The Benefits of Going To A Boxing Gym
Boxing classes certainly teach you how to box, but it's not all about getting into the ring and facing off against an opponent with a flurry of punches.
Done properly and with the proper guidance of a trainer, boxing classes provide a complete and full body workout. In addition to working the back, shoulders, arms, legs and core, it's also an extraordinarily good way to get in cardiovascular training as well.
There are mental health benefits to training in a boxing gym, especially one that also offers other martial arts disciplines like Corporate Box Gym. Boxing training helps to relieve stress, improve mental self-discipline and release mood-enhancing endorphins.
Are Boxing Classes Suitable For Beginners?
The short answer: yes! Many boxing gyms, like ours, welcome members of all ages, experience and skill levels.
Boxing classes are taken by highly trained and experienced fighters who know how to pitch a training session and teach you boxing techniques all for the level of expertise of its participants.
However, we know that it can be daunting, especially if you've never attended a boxing class before. That's why we're here to help! Here's everything you need to know about boxing gyms and classes.
The Types of Boxing Classes
Much like boxing gloves, when it comes to boxing classes, it's NOT a one size fits all.
The right boxing class for you depends on numerous things, such as your fitness level, martial arts experience, and your personal goals. 
Floor Classes – These boxing classes are probably the most common form of boxing training for beginners. Generally, the class takes place on a padded floor where a trainer will take you through a series of exercise drills–think jumping jacks etc–that will also include various forms of boxing skills. Of course, every gym runs its classes in a particular way. Some play pump-up music, others keep it quiet and the size of the class will range too.
Cardio Classes – All forms of boxing classes will work wonders on your health and fitness, but some boxing or kickboxing sessions focus more on infusing a cardio-workout in their training than others. These classes will often blend boxing moves in with straight cardio exercises. They're also great ways for beginners to integrate into a boxing gym at a pace they're comfortable with.
Fight Training – More 'traditional' boxing gyms might focus on boxing classes that are primarily aimed at actual fighting. Instead of the group classes discussed above, these classes are more side-by-side training between an amateur and a professional boxer. These classes probably look more like the boxing training you see in the movies, and while there's always a spot for beginners, they can be a bit overwhelming for first-timers.
Punching Bags – If you're planning on going to a boxing gym, then plan on hitting a bag at some point. Boxing classes will all include punching in some form or another: bag training, sparring, or hitting an instructor's pads. Incorporated into these punching training sessions are defensive moves as well, like bobbing, footwork and weaving. If you're a beginner and have no idea how to punch without seriously injuring yourself and don't have a clue about the difference between an uppercut, hook, cross and jab, don't worry! The experienced trainers are there to help you learn to do exactly that. But if you still don't feel comfortable about all the hitting, have a chat to your trainer before the class and they'll modify your training accordingly.
Boxing classes, no matter which kind you attend, are excellent ways for beginners to attack and achieve their fitness and/or martial arts goals.
What you need to bring to boxing gyms
Don't run out and buy special 'boxing clothing' before heading to the gym. All you need are clothes you're happy to sweat in–because you'll be sweating a lot! Avoid anything that has straps that need constant adjusting and make sure you're comfortable and can move around easily.
Like clothes, you need to make sure you wear shoes that will support and not hinder your training. While you could buy a pair of boxing boots or wrestling shoes, it isn't really necessary. Go for a lightweight pair of shoes with a smooth bottom that will allow you to pivot and move easily without getting stuck on the mat or flooring. Kickboxing classes are often conducted in bare feet, but make sure to check with your gym ahead of time.
Think boxing. Think gloves. That's pretty normal. But most boxing gyms have gloves for you to use so you don't have to buy your own, though be warned that they probably stink to high heavens. It's recommended that you buy hand wraps, and they're pretty cheap, to both protect your hands and knuckles during all the punching and to keep your hands somewhat less exposed to the public gloves of your gym.
How to prepare for your first boxing class
We always recommend getting to your first class early (and it doesn't harm for subsequent ones either). That way you can have a chat with your trainer, get some help with your hand wraps, familiarise yourself with the gym and make sure you're ready when it starts.
It might seem obvious, but always make sure to bring water to your class and ensure you're hydrated before, during and after. It never hurts to ensure you have your own water bottle, even if your gym provides water facilities, like we do at Corporate Box Gym.
What to expect from your boxing class?
Apart from the usual sweat and smiles–and don't be alarmed by this–you're probably going to be very sore.
This isn't because you're going to be thrown into the ring to face Rocky Balboa (you won't be). It's just because you'll be using your body and moving in new and intense ways. It's highly likely that you've never experienced a workout like this. This is a good kind of pain and it will help your muscles grow and adapt and your body get fit. Just expect to be out of breath and exhausted as well.
Be prepared to concentrate! While it's no school, it's a class after all. You need to be present and paying attention to the combinations, moves and exercises you're being taught. This isn't just a physical work out, but a mental one as well. There's no need to stress though: Boxing classes are designed to help beginners build up their ability to remember combinations. All you need to do is be as focused as you can and try your best.
If you get lost, confused or struggle to keep up make sure you speak up and ask your trainer for help. There's only shame in NOT asking when you need to; there's nothing wrong in asking for help–that's how everyone learns. Your trainers will be more than happy to help you perfect the form.
Boxing Classes Are GREAT For Beginners
If you're a beginner and sitting on the fence about a boxing class, just give it a go!
There's no need to feel intimidated or self-conscious. Remember: everyone was a beginner once. Everyone, even the greatest of professional fighters, started out exactly where you did.
Boxing gyms offer more than just a great way to work out and keep fit: it provides a real community of like minded, supporting individuals working together to achieve their goals and have fun while they do it. 
Corporate Box Gym
The entire Corporate Box team is committed to being in your corner!
Our professional team of trainers provide both boxing and kickboxing classes, and we are open 24 hours a day in various locations.
To find out more about our boxing gyms, book a free trial class or arrange to come in and check us out, give us a call on 07 3357 7103.
https://www.corporateboxgym.com.au/wp-content/uploads/corporate-box-gym-classes-kids-013.jpg
600
600
Ruth Wren
https://www.corporateboxgym.com.au/wp-content/uploads/CORPBOX-LOGO_small.png
Ruth Wren
2020-07-24 06:00:42
2020-09-13 10:00:14
Are Boxing Gyms Good For Beginners?